Waist training is the practice of wearing a corset to achieve a smaller waist measurement, corseted or uncorseted. Tightlacing, depending on whom you ask, is either a 23/7 corseted lifestyle or simply lacing one's corset to a particularly snug and dramatic waist reduction. Neither can be accomplished without a well-made, well-fitted corset.
What is it?
The terms "waist training" and "tightlacing" refer to certain practices of corset wearing, but their definitions are flexible, overlapping and sometimes interchangeable, and mean different things to different people. People often try to quantify them with a number of inches and/or duration of wear.
Generally speaking, waist training is the practice of wearing a corset to achieve a smaller waist measurement, corseted or uncorseted.
Tightlacing, to some, means wearing a corset literally 23/7 (removing it only to bathe), whereas the definition I lean towards is wearing a corset with a dramatic waist reduction. There is no specific number of inches that equates to a dramatic reduction due to the variance of size as compressibility of corset wearers: 5″ off a 24″ waist is sizable, 6″ off a 36″ waist is minimal, and so forth.
How does it work?
There are no "rules" for waist training except to be extremely mindful of your body to prevent damage and maximize results. It is more important to wear your corset often than to wear it exceptionally tight or for very long periods of time. This is the same theory that would apply if learning a musical instrument or any other skill. The muscle memory is better reinforced by frequent repetitions than by being pushed beyond comfort.
To see results, you should wear your corset at least a few times a week for several hours. Lace your self in, but before tying off, take a deep breath through your lower ribs (but not your stomach). You may find the gap opening naturally a bit at the waist, or feel as if it needs to. If you're intending to wear your corset all day (8+ hours), lace half an inch or an inch looser than you think you need to. You can always go tighter next time, but if you lace too tight you're just going to want to take it off. Remember that your corset will need to "break in" when you first get it; over time it will mold to your body and become more comfortable. (A corset will always break in after repeated wearings, even if they are spaced far apart, but your body will only mold to the corset with frequent wearings.)
Do I need a custom corset?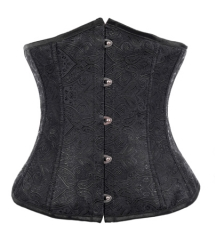 It is often said that if one is to train or tightlace, a fully custom corset is an absolute necessity. I would politely disagree with this statement for a variety of reasons, though I would certainly not go so far as to say this is never the case. As one begins training, the natural figure is probably still within the realm of ready-to-wear sizing. Even if you have a non-standard figure (short waisted, large busted, scoliosis, etc), this can often be corrected with lesser alterations to ready to wear corset patterns. If the corset fits on your body, both aesthetically and in terms of comfort, there is no reason why a ready to wear or altered ready to wear is not a serviceable option. A custom corset is a sizeable investment and the intended corset maker and frequency of wearings should be carefully considered before purchase.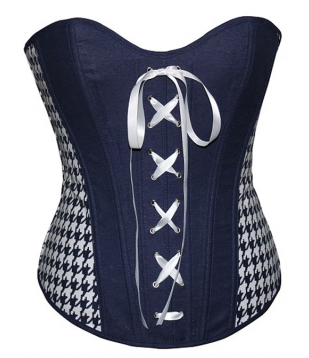 For both ready to wear and custom corsets, it's important to find a corset maker whose shape, from proportion to hip spring to posture, suits your body. A mass-produced corset from an off-site factory will not have the same quality of shape and structure as a hand-made corset, crafted on the corsetiere's premises, and will also have fewer options for alterations and customization. Even when going handmade, not all corset makers are created equal. Along with the obvious aesthetic differences, we each have subtle or not-so-subtle differences in our patterning techniques and favored body types.
Pop Antique corsets are particularly well-suited to waist trainers and tightlacers because of the signature cupped rib shape. This allows for waist reductions that are simultaneously more dramatic and comfortable, particularly for those with non-compressible ribs. Even the same amount of waist reduction will look more dramatic with this shape, because it is concentrated into a smaller area.
If you want to have more information about waist training and corset, please visit http://www.lover-beauty.com/.