Don't you hope to have a fabulous travel in your Christmas holiday? But feel unhappy and worry about your messy stuff and odds and ends? I reckon that happiness is the most important. So, if you can't enjoy your travel because of your luggage, that's a bad thing we would not want to happen.
Lover-Beauty has considered those problems that might be happened during your gorgeous journey, and try to do our best to help you if you would accept.
About odds and ends, we offer different portable storage bags. They are all waterproof that you need not worry about rainy days. They can help you to classify and tidy your small things, and let your luggage keep neat. Three different styles that would meet your different needs. Phones, toiletry, washing tools, underwear and shoes are all find their suitable positions.
If you don't want to take more luggage, our clothing organizers would have a role to play. The bags are able to hold large quantities of items, and  they feature with light weight, water resistant and easy cleaning. It has adjustable handstrap and portable outside pocket, and it can fix on suitcase. It is very wise for you to carry this package, foldable to be kept when it is not used, convenient to use. Four colors for you to choose.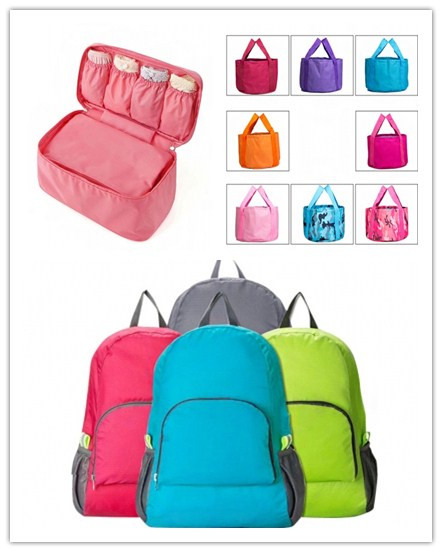 Our traveling backpacks are another good choice for you to avoid taking many suitcases. They are cozy padded and stylishly designed bags for work and day trips. An inner compartment holds a padded laptop/ ipad compatible section, a large inner compartment and two bottle holders.
Here has another crux is that if you go to nature, how could you store water? Everyone knows that water is necessary for us, but it is difficult to catch without suitable tools. We find this problem careful and want to solve it for you.